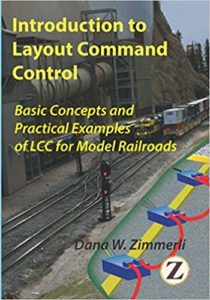 Dana Zimmerli has just authored and released a new book about LCC called: Introduction to Layout Command Control: Basic Concepts and Practical Examples of LCC for Model Railroads. Its available in both Paperback and Kindle versions from Amazon, but the author has also released a PDF version available his web shop. I started with the Kindle version, but just upgraded to the PDF versions as the Kindle version still has a number of unresolved formatting issues – I strongly recommend the PDF version for now. I've not seen the print version so can't comment on that format.
In the book Dana introduces the reader to the essentials of LCC, some basic electronics (LEDs, switches, resistors etc) and then works through the process of planning and analysing and mapping the various layout elements onto LCC concepts and commercial hardware and discusses the choices along the way. He then works through wiring the components and configuration using JMRI, all the way through to implementing signalling. Its a pretty good and comprehensive and practical introduction to LCC, without getting stuck in unnecessary technical detail – it very readable.
Here's an excerpt from the Introduction page:
This book was inspired by the many hobbyists that have been looking at Layout Command Control as a new method to control their Model Railroad. After giving clinics on LCC for two years in the Pacific Southwest Region of the NMRA, I realized that the beginner would need something to refer to and I could not reach everyone in clinics. Constant messages on the LCC group made it more clear. I decided that I could write this down so that all the hobbyists that wanted to implement LCC would have a starting point. I have spent my entire career through to retirement in aerospace development. As a SystemEngineer, Technical Director, and Program Manager, I participated in several proposals for military contracts. I decided that, if I could translate engineer-speak for the military, I should be able to explain LCC to ModelRailroaders.